Grande Riviere Birds and Leatherback Turtles
Leatherback Turtles at Grande Riviere is the main attraction at this small village on Trinidad's rugged northeast coast. After dark, it comes alive, especially at weekends during the Leatherback Turtles nesting season. Further, the season runs from January to September, peaking from March and June.
Grande Riviere Beach and Accommodation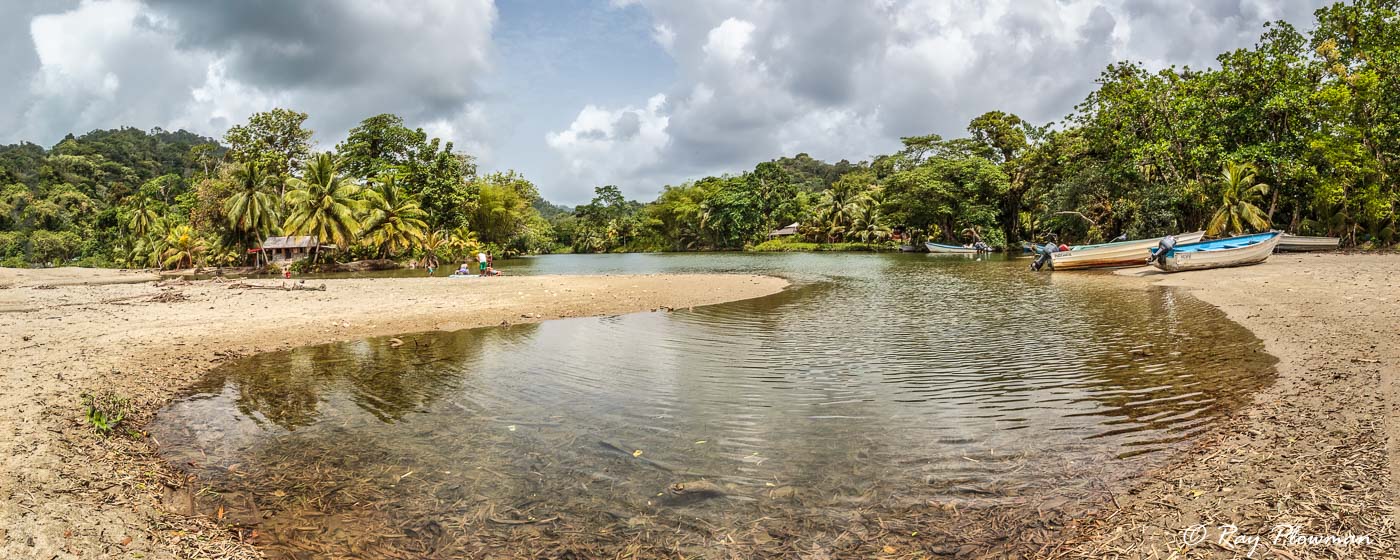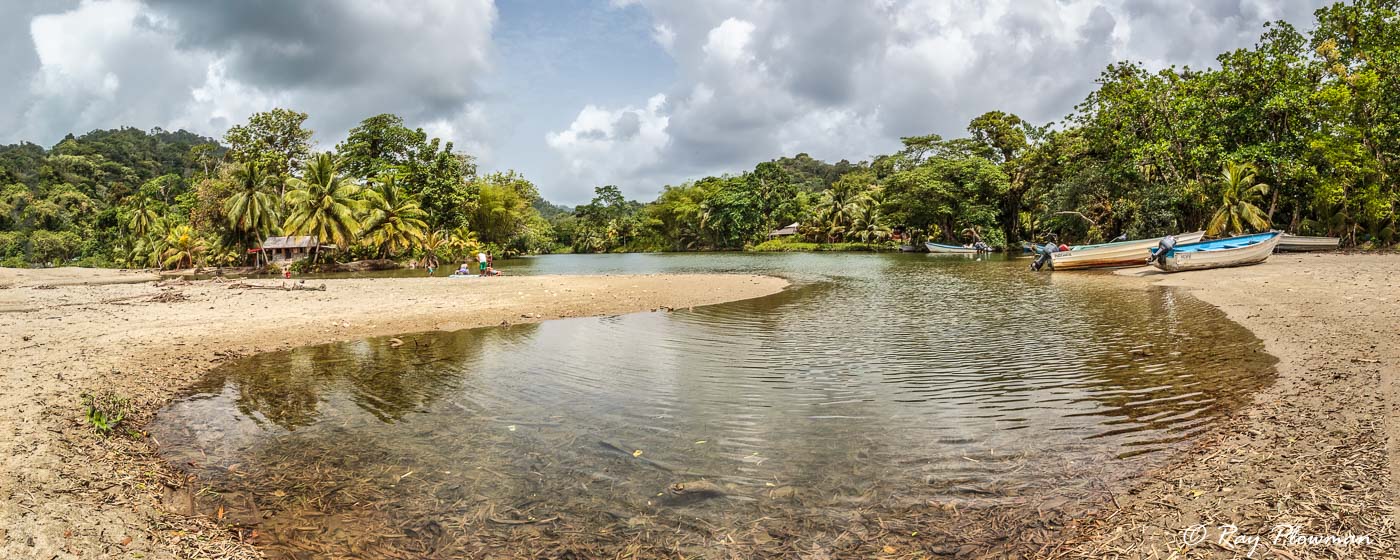 River, Beach and Accommodation
Grande Riviere is a small village located on Trinidad's remote, wild, and rugged northeast coast. And a small river with the same name runs into the sea at the turtle nesting beach. It is 90 km from Asa Wright Nature Centre, and the taxi journey is roughly two and a half hours. The village is 10 km east of Matelot, located at the end of the northeast coast road. Most tourists and locals come for turtle watching and bird watchers to see Trinidad's only endemic bird, the piping guan.
There are several small hotels located in the village. We stayed at Mt Plaisir Estate Hotel, which has the best location fronting the beach. The rooms offer great views of turtles nesting on the beach, which has restricted access after dark. Grande Riviere has two small general stores within walking distance of the hotel. Unfortunately, both goods and assistants are in cages in these stores, but they allow access to browse.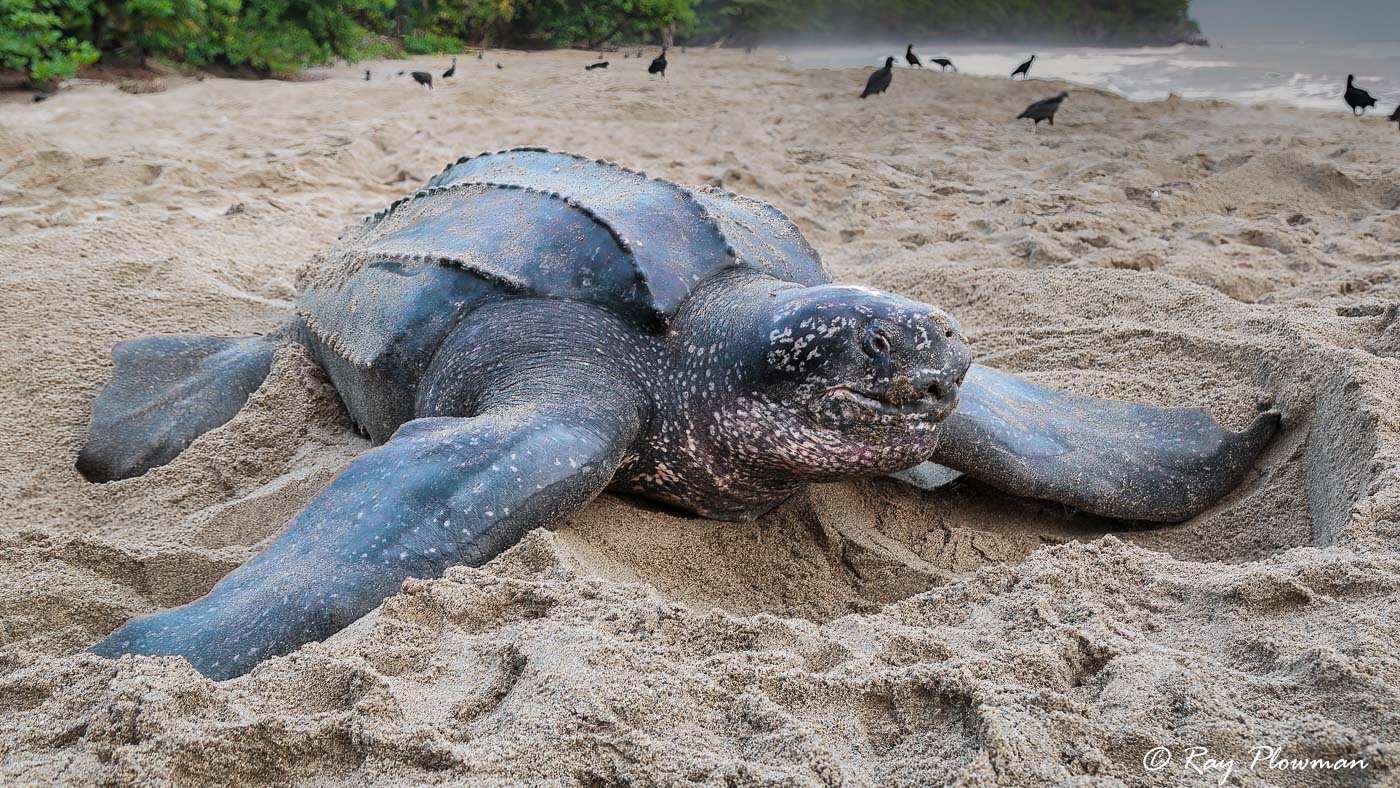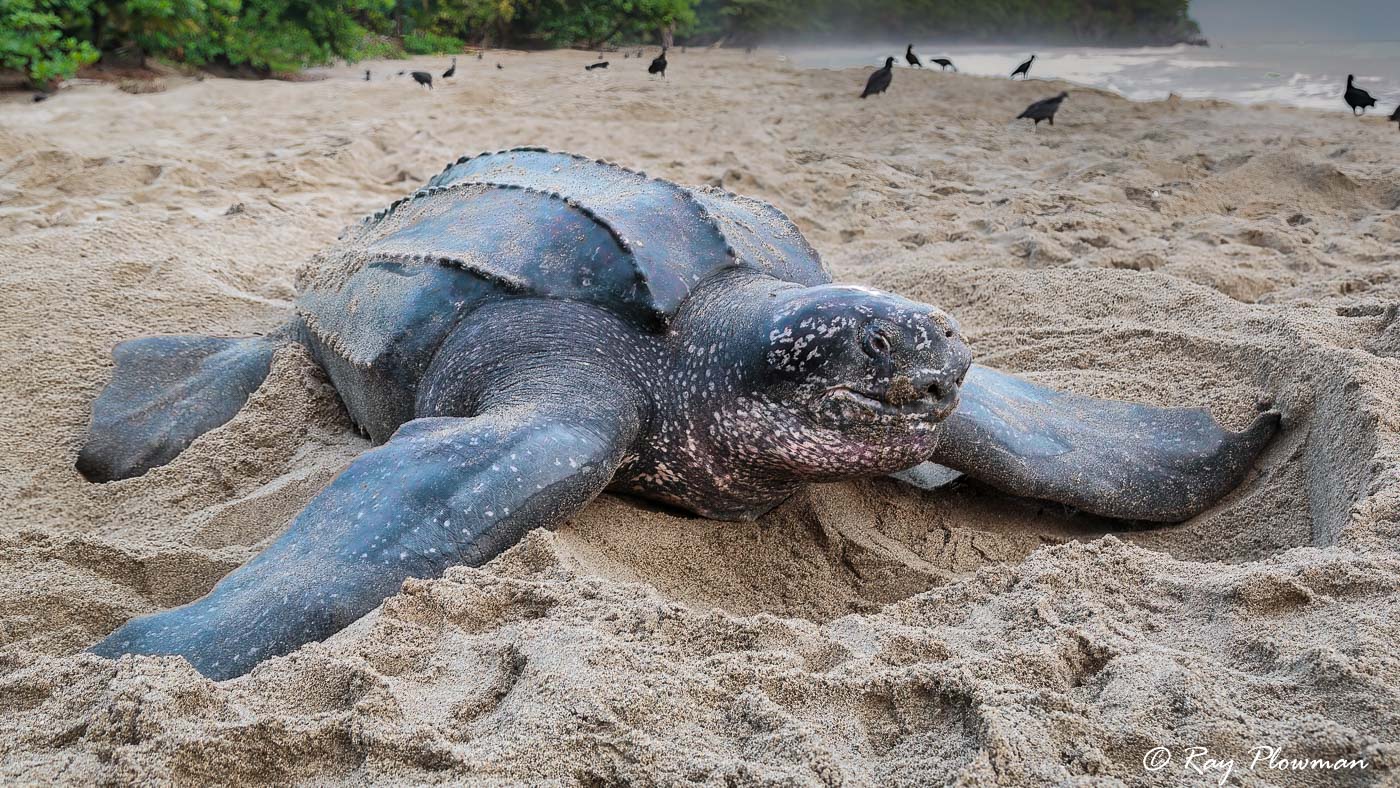 Leatherback Turtles at Grande Riviere
The Turtle Village Trust promotes turtle watching in Trinidad, which has some vital leatherback nesting beaches. And Grande Riviere beach is a primary nesting location. After dark, access to the beach is by permit and a guide from the Grande Riviere Nature Tour Guides Association. We took a Saturday night tour. I did not bother taking a camera but did take a red lens touch. Unfortunately, the large groups of people seemed to interfere with turtles coming ashore. More than forty turtles nested that night, although one turtle did turn around when a large group of people blocked her progress. At dawn on Sunday, there were some photo opportunities as a few late arrivals were still nesting.
Leatherback turtles are the largest sea turtle species, about two metres and weighing over 900 Kg. The watching season runs from March and July for egg-laying and through to August and September for hatchlings. First, females come ashore, dig body pits, excavate an egg chamber, and lay their eggs. Next, they cover their eggs, camouflage the nest by digging and scatter sand over a larger area than the body pit before returning to the sea.
Black Vulture Behaviours at Grande Riviere
Photo Essay - Black Vulture Behaviour
Black vultures primarily feed on carrion and in leatherback nesting season on their eggs. Sadly, they occasionally kill hatchlings. At dawn, waiting vultures gather on the beach, often surrounding any leatherback stragglers hoping to steal their eggs. Although, there are losses due to high nest density caused by other leatherbacks nesting in the same place. Local dogs also dig for eggs, which they eat. Finally, beach erosion seems to be a problem at Grande Riviere, where high tides flood nests and erode those too close to the sea.
I photographed all the bird images at Grande Riviere beach. Featured photos include adult and immature Carib Grackles, Yellow-headed Caracaras, Brown Pelicans, and an adult Spotted Sandpiper. Most featured birds comprise images from my Birds webpage, specifically from the Waterbirds, Core Waterbirds, Core Landbirds and Passerida II Albums. Also, see these albums for classification and species information.